💡Facebook's pivot to privacy, using systems thinking to fix capitalism
Issue #004, plus the terrifying potential of 5G, rise of the plant-based meat industry, losing faith in democracy, and more
Not a subscriber? Sign up here.
Facebook's pivot to privacy
Facebook once proudly described itself a "digital town square". As the last couple of years has shown, they've struggled to live up to that promise: the company has repeatedly mishandled user data, and the platform has become a powerful tool for spreading misinformation and undermining democracies across the world.
This week at F8, their biggest event of the year, they changed course.
In his keynote, Zuckerberg announced a redesigned Facebook, one that's more of a privacy-focused "digital living room" than a town square. These changes are as much about improving privacy—which they, of course, desperately need to do—as they are a response to changing user behavior. As Zuckerberg said: "By far, the three fastest-growing areas of online communication are private messaging, groups and Stories."
The main announcement was a redesign of the Facebook web and mobile apps. The News Feed was barely discussed, but, for all of Facebook's talk about private communication and ephemeral content, the News Feed is still the core of the Facebook experience, an infinite scroll of public posts and targeted ads: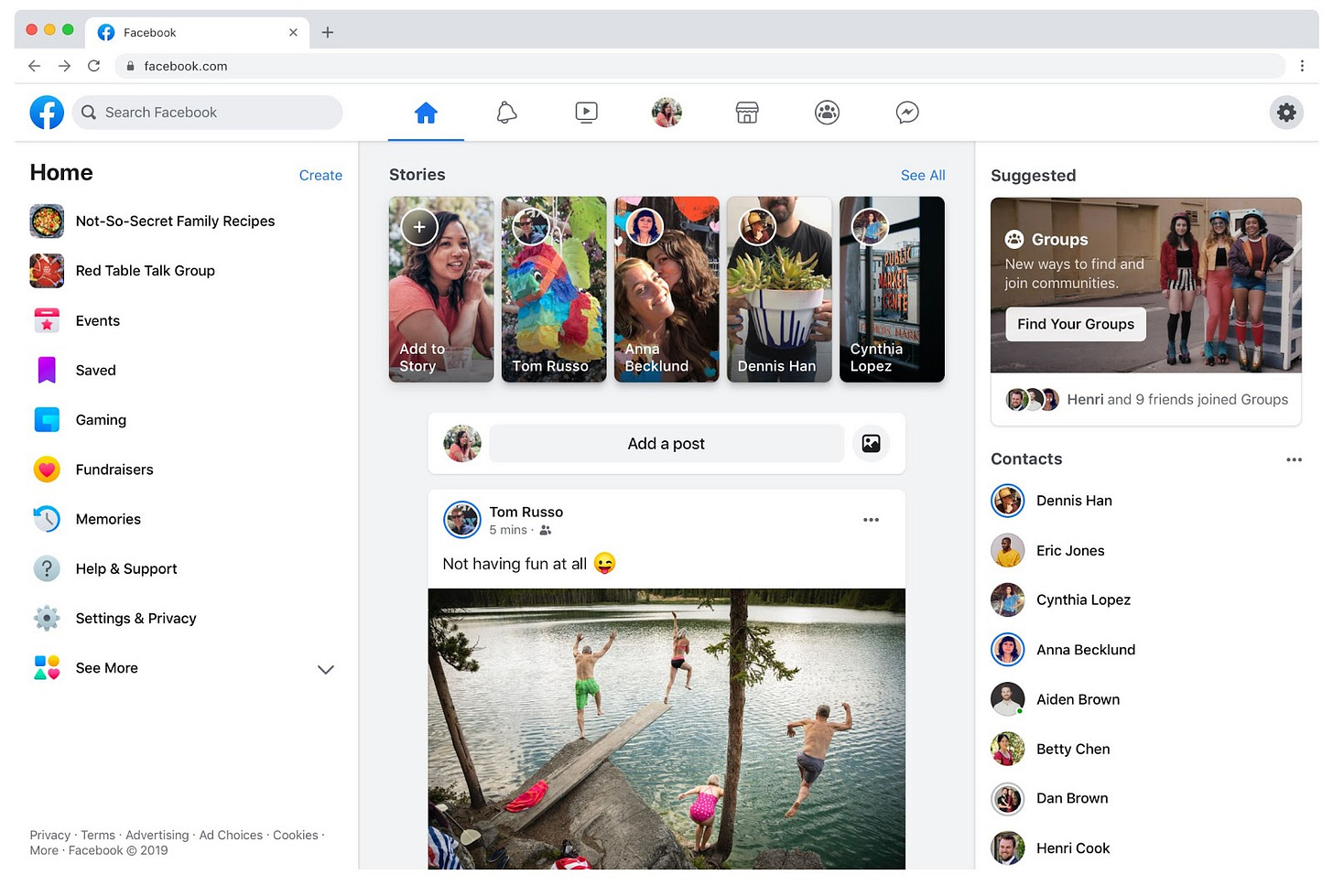 To me, in part because of this lack of meaningful change to the core product, the most interesting news about Facebook this week didn't come from F8, and it wasn't even that they finally banned dangerous conspiracy theorists. It came from this New York Times story about how the company, as part of its incoming $3-5 billion "traffic ticket" from the F.T.C. for privacy violations, is working with the agency to create a new governance structure centered on privacy. From the NYT:
"The company has offered what it has described to the F.T.C. as a new corporate governance structure built around privacy, the people said. The promises include the creation of an independent committee, which could include members of Facebook's board of directors, to oversee privacy policy. The committee would meet quarterly.

Facebook also agreed to the creation of a position for an independent assessor, the people said. The assessor would be appointed by the F.T.C. and the privacy committee. That person would determine whether the company is complying with a new F.T.C. privacy order as well as the company's own privacy policy for users. The assessor would give biannual reports to the company and F.T.C. The company would also designate a compliance officer internally at the executive ranks."
More:
---
History of the Capital AI & Market Failures in the Attention Economy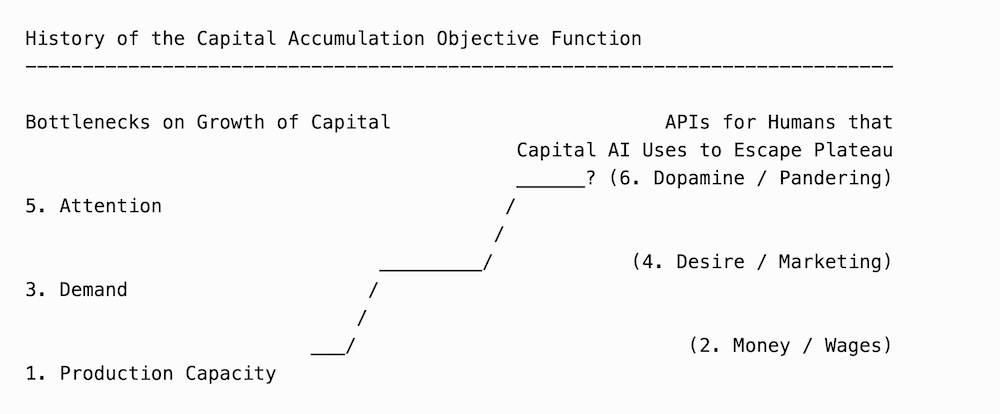 Fascinating essay from Andrew Kortina (one of the founders of Venmo) in which he suggests thinking about consumer capitalism as an objective function, or an AI, that's been "optimized for the satisfaction of our short term desires rather than our long term interests". This focus on short term desires, he argues, has given rise to many of the social, political, and economic issues we face today, from "Wrestlemania politics" to wealth disparity to social media addiction.
"When I think about everything that is wrong with our society, I constantly find myself falling into the trap of 'hating the player' and forgetting that the behavior of the player is dictated by the rules of the game."
What is the objective function of a politician, for example? Kortina argues that it's optimized not for results, but for votes.
"I think we need to reframe the discourse around the problems in terms of "Systems Thinking," rather than in terms of good and bad actors."
Whether or not you like his notion of the "Capital AI", I think his broader point—that we need to focus on the systems, not just the actors within them—is important and deserves more focus. It's easy to blame politicians for chasing votes, media companies for chasing clicks, and tech companies for chasing engagement at all costs. And it's important to call them out when they do. But it's more important that we examine and re-architect the systems that are incentivizing them in the first place. Kortina's piece does a great job explaining why, and his practical recommendations for how are interesting, too. Read the piece here.
More on systems thinking:
---
"If you have to bet, the United States will be way more like Canada pretty soon, in terms of more free education at the university level and more Medicare and some kind of medicine for all. And that we can afford without ruining the productivity of the civilization."
---
5 stories worth reading
📱New Yorker piece on the "terrifying potential" of the 5G network. "As 5G begins to be rolled out, the pressure to capture and capitalize on new streams of data from individuals, businesses, and governments will only grow more intense."
🌱The plant-based meat industry just had what was probably its biggest week ever. Just this week, Beyond Meat went public, Impossible Foods announced a shortage due to high demand, Burger King announced a nationwide rollout of the Impossible Burger, and Ikea announced plans to start making plant-based meatballs. Read more.
📸Get an inside look at a Chinese facial recognition system that was accidentally made public.
🏛A survey across 27 countries found that people are increasingly dissatisfied with the state of democracy in their country. Pairs well with Kortina's piece, especially this bit: "If we lose too much faith in institutions too quickly, our institutions will lose the authority to enforce all of these norms and we could easily slip into a state of anarchy."
🌉Cities have emerged as the unlikely power brokers that could stop—or at least slow down—Big Tech.
---
Or, maybe none of this matters and we should just keep an eye on Pitbull. He's having the time of his life out here.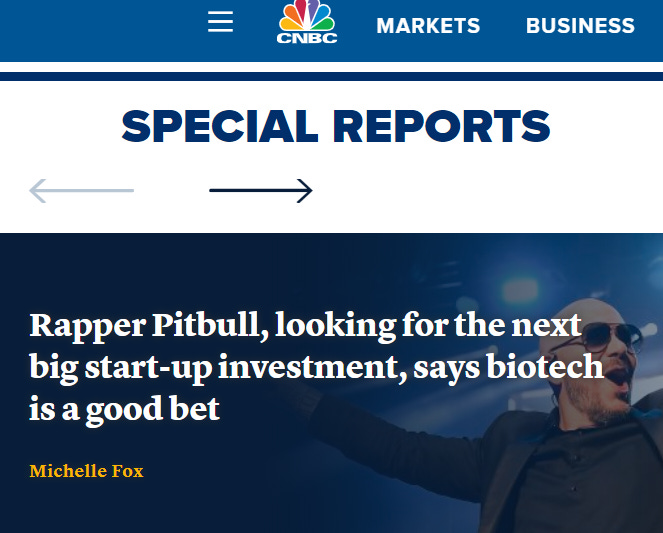 ---
Endnote
I hope you've been enjoying Forward so far—thanks to all of you who've shared thoughtful feedback, stories, and ideas! Please keep it coming :-)
I want to recommend my friend Nick deWilde's monthly newsletter, The Jungle Gym. He describes it as a "monthly note about managing your fast-moving career" but it's much more than that, delving into topics like geopolitics and the social responsibility of tech companies.
If you have feedback, questions, or underrated Pitbull songs, my email's hugh.mcfall@gmail.com. If this was forwarded to you and you want to subscribe, you can do that here. Thanks for reading!